10L0L Golf Cart Parts & Accessories
2 Passenger Deluxe Golf Cart Driving Enclosure for Club Car Precedent 2 Passenger Waterproof Portable Transparent Storage Enclosure
stars, based on
19
reviews
2 Passenger Deluxe Golf Cart Driving Enclosures for Club Car Precedent, Waterproof Portable Transparent Golf Cart Cover Storage Enclosure - 4-Sided (Roof up to 58" L)

KEEP WARM IN THE COLD WEATHER: This club car precedent enclosure 2 passenger works exceptionally well to keep your cart dry inside, as well as to protect you from wind/rain, keep you warm in the cold without the need for a heater, let you enjoy golf with no worry. A MUST-HAVE Club Car Precedent Enclosure.
2 PASSENGER WITH FULL ROOF 58" TOP: This club car precedent enclosure is designed for most 2-Person club car precedent golf carts. As long as your golf cart roof is 148cm/58in length, 92cm/36in width and 148cm/58in height, our golf cart enclosures for club car precedent can work well for your golf carts.
HEAVY DUTY WATER REPELLENT POLYESTER WALLS: Use the 600D high quantity material polyester, tear-resistant and UV-resistant. With PU water-proof layer inside to enhance the overall water-resistant, you do not have to worry about bad weather(dust, rain, snow, sun, water) damage to your car when you do outdoor activities.
ZIPPERED SIDE OPENINGS & TWO HOOKS AT THE BOTTOM: This portable golf cart enclosures 2 passengers with a zippered side opening which ensures easy in and out, the side door can be zippered both inside and outside. Roll-up doors can be easily fixed by magic tape.
EASY TO PUT ON AND TAKE OFF: The club car precedent enclosure is easy to get on/off. No tools are required and it is easy to set up and take off, only needs minutes to be fully assembled. Even your 10-year-old son can cover and remove the cover with no problems whatsoever.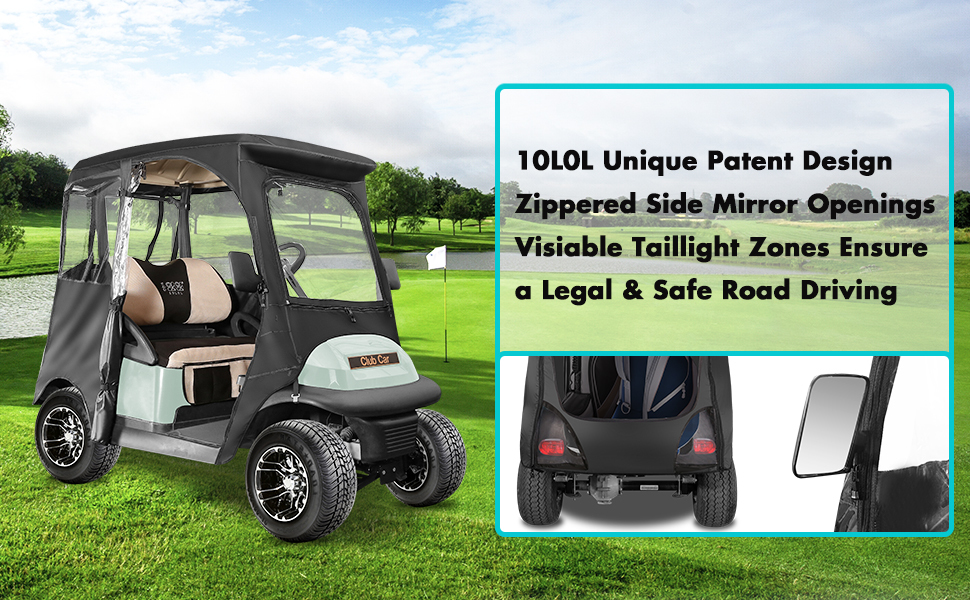 Side mirror opening and visible design of rear lights are unique design patent by 10L0L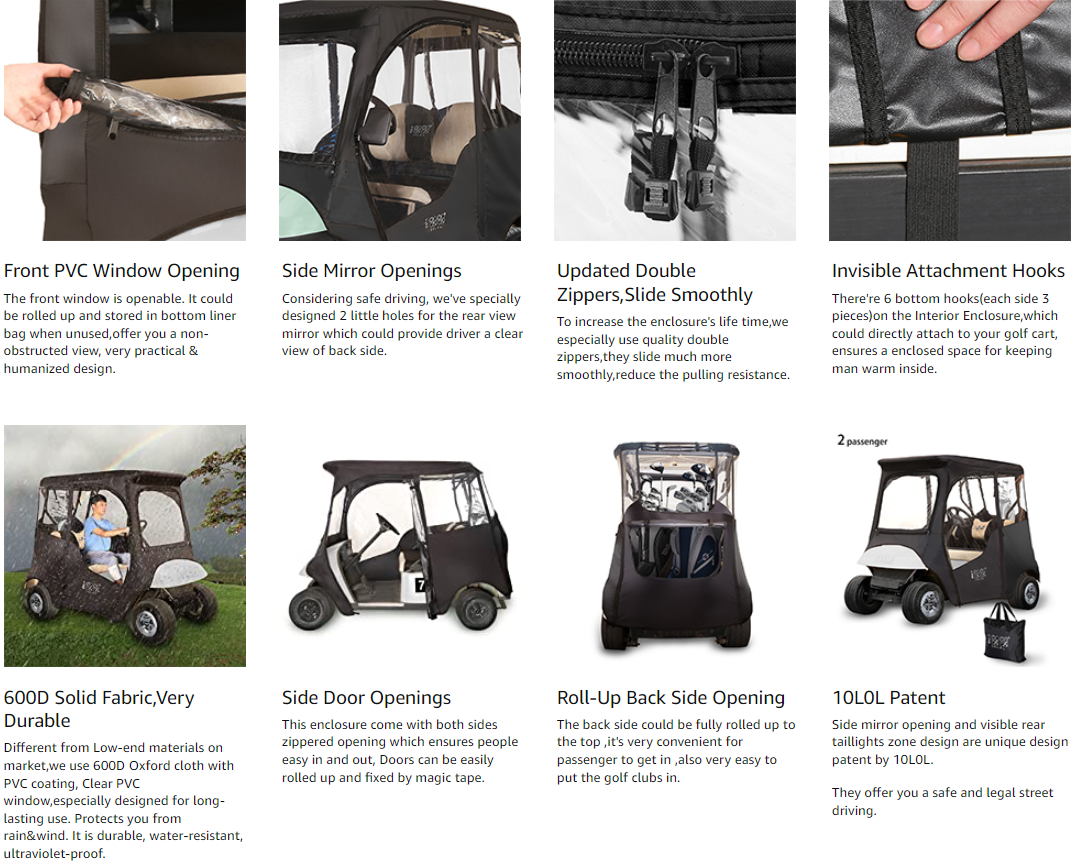 By
Paul Quigley
Sunday, 03 April 2022
easy install , stays on in wind . great product
By
maddan
Thursday, 03 February 2022
This is the second cover I've purchased this year. Seems to fit my cart very well. The first one was a different brand but I fear the problem is the same. Substandard door zippers. The plastic they are made of has and will certainly fail especially in a cold weather environment. I'd pay substantially more if zippers were of better quality.
By
Amazon Customer
Saturday, 15 January 2022
I golf in Washington and the weather can be a little iffy. This cart cover took about a half hour to configure on the golf cart. Had to watch a YouTube video to figure it out because it does not come with instructions. Well at least mine did not. It does not quite fit the back end of the ezgo golf cart that we use at our course. I am using the large binder clips for the door on the driver side because unzipping is a little bit of a hassle. All and all I like it.
By
Momof3
Friday, 14 January 2022
Awesome cover. Perfect for all year, but keeps you warm when riding around especially in winter. Made really well and fits my golf cart , that's from the 90s, perfectly. Just measure your dimensions before you buy.
By
NKHeather
Monday, 15 November 2021
I ended up returning other covers as they were too big and heavy. This cover fits literally "perfect" and it is light weighted therefor much easier to use and carry. Great design with good quality materials too.
By
Shane Davis
Thursday, 06 May 2021
Was exactly what I wanted
By
Stephanie M.
Sunday, 11 April 2021
Wonderful product. Fits my txt ezgo perfectly. Keeps out all the elements. I don't have to worry about rain while I'm out and about, doors roll up and down easy and quickly. Easy to see through windshield or you can just take it off completely. My original had a small tear in the seam of the door and 10L0L replaced it immediately. Would not recommend any other brand. 10/10
By
for the love of my dog
Friday, 05 March 2021
Loved it. Good quality and price.
By
Daniel Cloud
Saturday, 20 February 2021
The cover is very solid and does a great job on the smaller type of golf carts. It does not fit well on the newer Yahama golf cart which have a large roof. Still a very good value for the smaller carts.
By
Tim
Monday, 25 January 2021
Very nice cover, looks great on, material seems to be high quality , been on all winter (Florida winter) held up great highly recommend
By
Lone_wolf_salute86
Saturday, 16 January 2021
Great price fit Perfect on 08 EZGO PDS. Was worth every penny!! Price was perfect material is ok has some thread's here or there but great price definitely a bargain. Just wish it had clear spots for the real tail lights!
By
C. hanggi
Sunday, 20 December 2020
By
David E.
Monday, 07 December 2020
Love this, took it out for the first time this weekend and it was easy to install on our courses EZGO golf carts. The entire thing is designed well, in fact one of my friends who already has a cover is buying one of these now.
By
karen pittman
Thursday, 19 November 2020
I have purchased many golf cart enclosures and this is the best of them all. It was easy to put on and provides great protection from the weather. I would highly recommend it. Yes, there are some that are cheaper but this one is a quality product that is worth the extra cost.
By
Angel Gonzalez
Saturday, 31 October 2020
Muy fácil de instalar y muy buena calidad
By
Shae Norwick
Saturday, 31 October 2020
By
B
Thursday, 29 October 2020
By
Peggy bane
Wednesday, 08 July 2020
Fit cart for my needs perfectly. Looks great. Free grill cover added bonus as I didn't have cover for my grill