10L0L Golf Cart Parts & Accessories
600D Golf Cart Enclosure for Club Car Precedent 2-4 Passenger with Security Side Mirror Openings Waterproof Portable Transparent Driving Enclosure
stars, based on
17
reviews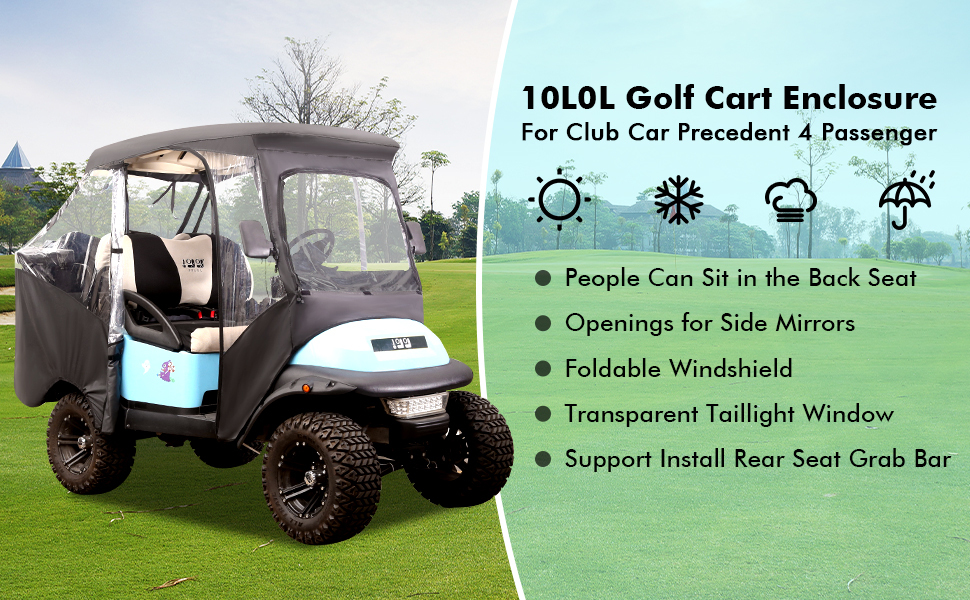 10L0L 4 Passenger Golf Cart Enclosures for Club Car Precedent
1. This club car enclosure is Fit for 4-passenger Club Car Precedent.
2. Size Information:
Length: 95 inches
Height: 59.8 inches
Front top width: 39.3 inches
Back top width: 59 inches
3. Please kindly check the size and model before you purchase our Club Car enclosure.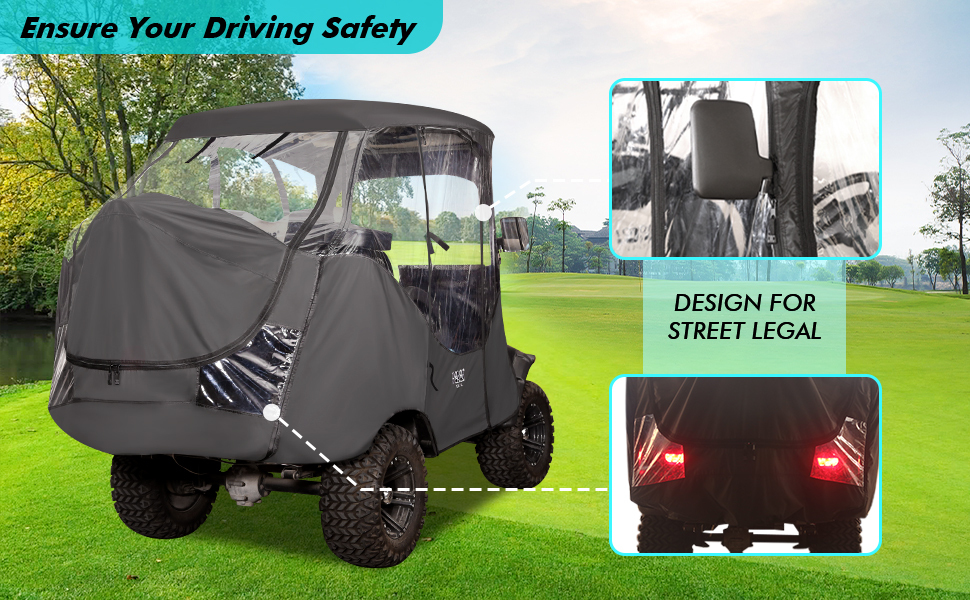 Make Your Golf Cart Meet Street Legal
1. WITH SECURITY SIDE MIRROR OPENINGS:
Our golf cart enclosures with large side mirror openings, it's a plus for safety and ensure your driving safety.
2. TRANSPARENT TAILLIGHT ZONES:
Humanized design which we used the transparent taillight window, back lights can be seen!
NOTE: Side mirror opening and visible design of rear lights are unique design patent by 10L0L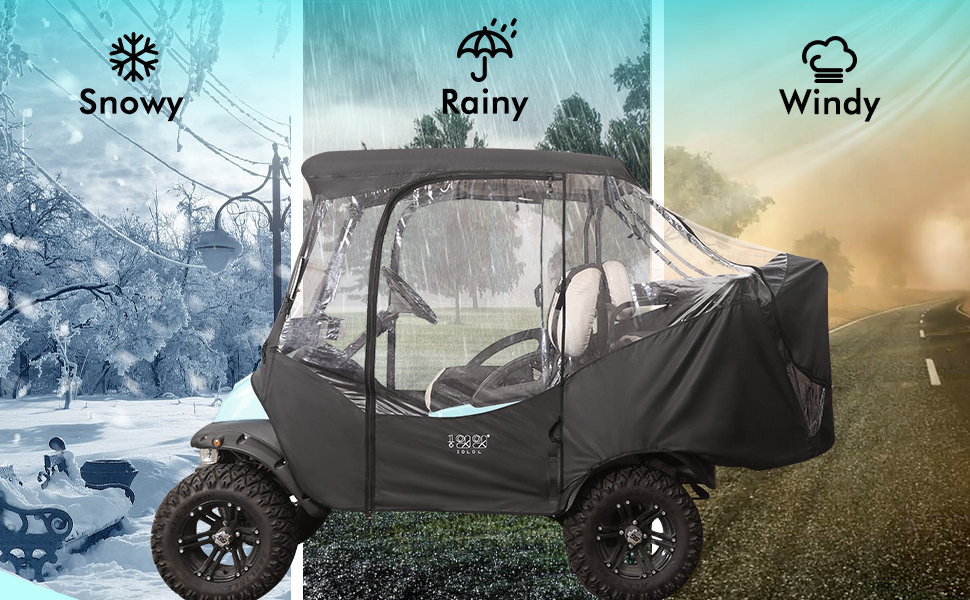 FULL PROTECTION & WATERPROOF MATERIAL:
It might be rather bothering for golf lovers when they come across with unfavorable weather such as rain, fierce wind and too much sunshine. Our golf cart enclosures for club car made with water repellent polyester and PVC, extra durable, more waterproof, tear resistant and anti-UV, effectively protects your golf cart from the rain, wind and other weather conditions.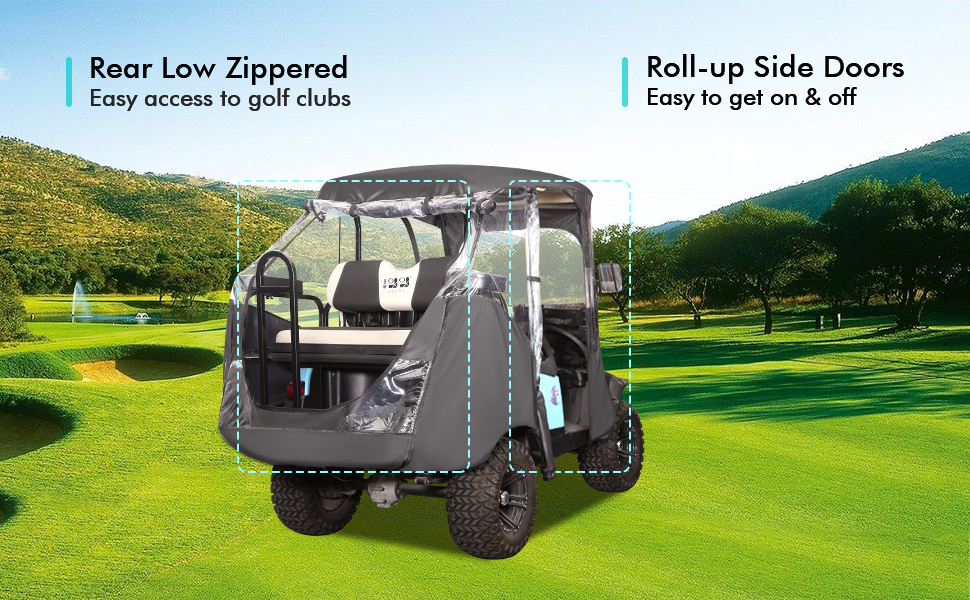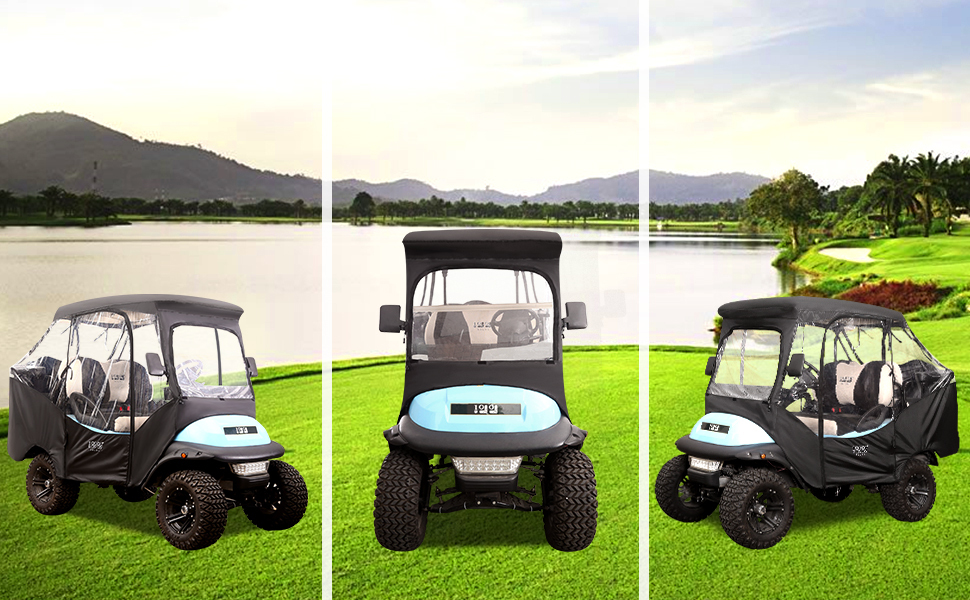 By
Thomas Siske
Saturday, 05 March 2022
This fits my 2014 Club Car well and blocks the wind nicely. The only reason I didn't give it a 5 is bc the hooks at the bottom come undone too easily.
By
Jan
Friday, 04 February 2022
This came in a week, very well packaged, fit like a dream! It's excellent value, quality materials and heavy duty zippers. Windshield folds neatly into its own pocket, sturdy velcro to hold doors open, elastic at bottom to get a good fit. Easy to put on. Need to air it out for the vinyl smell but, honestly, that's not even a complaint! Make sure you get the right model for your specific cart.
By
P M
Friday, 28 January 2022
Much nicer than other temporary golf cart curtains. The zippers are a bit hard to zip.
By
ronald gary
Thursday, 27 January 2022
they said it was for a club precedent cart. but it fit my 2017 ezgo rxv just fine with little or no adj
By
J sweeney
Wednesday, 19 January 2022
Everything is perfect, easy to put on, the plastic is good quality. Good price for the product.
By
Tellitlikeitis
Thursday, 13 January 2022
I bought a different brand that was $10 cheaper and regretted it immediately. It was an inferior product in every way from design to materials and especially in fit. The visibility out the wrinkled clear plastic was so bad I deemed it to be dangerous. I returned it before ordering this model by 10LOL. I just installed this cover and it fits like a glove, is designed much better, secures very well, looks better and has much better visibility. Truly if you have the Club Car Precedent with fold down back seat and short roof look no further. This is the one to get. It even comes with a nice bag to store it plus a cup holder adapter to hold a propane heater.
By
Harriett Carman
Monday, 27 December 2021
Some directions would have been helpful, but we were able to put the cover on the right way. The material is heavy plastic so we hope it will hold up well.
By
D. Crownover
Friday, 12 November 2021
Ease of installing was great and it fit perfectly.
By
Amazon Customer
Thursday, 04 November 2021
I have bought several other covers in the past. This is the first one to actually fit properly. It makes the cart comfortable to drive in cold weather, great visibility.
By
Jeff A.
Friday, 11 June 2021
Love the cover but would be nice if the front plastic rolled up if not raining so you can open your windshield
By
Gwen Shuler
Saturday, 30 January 2021
The cover was easy to install, and It fits our golf cart very well!! We're so happy to be able to ride in warmth andvenjoy our golf cart through the winter months now!!
By
Us"
Friday, 29 January 2021
By
David Gardner
Tuesday, 05 January 2021
The cover fits good. The bottom strap should be a little nearer the front
By
CaBang Detail
Wednesday, 25 November 2020
By
Ranger225
Wednesday, 25 November 2020
Couldn't get it to work on the back. We even removed the chair arms on the back and when pulled over the back, it put way too much pressure on the door zippers....could barely zip and unzip them. So we decided for the price, we could just tuck the back in, keep the heat in the main compartment of the cart because it's just 2 of us most of the time anyway. So here's a thought, make a cover that fits the main compartment....leave the back open so that people can still sit back there, albeit more chilly....🥶. But the heater we got for ours, probably going to be too much heat for the main compartment so you could just unzip the back window so that passengers could still enjoy some of the heat. I mean, how far are you really going on a golf cart, 5 min ride for most of our trips to neighbors, might be different for you. We can't use private carts on our courses
By
Angela
Saturday, 07 November 2020
Got this so I can cover my cart and use it when weather is cold/rainy/snowy over the winter to get my daughter from the bus (long driveway). It will definitely be a lifesaver! Snug fit, zipper doors are great too. My only suggestion would be to put small labels to make installation easier (front, back, driver, passenger). I had to switch it around a few times before I got it on--but once it was on, it was perfect!