10L0L Golf Cart Parts & Accessories
Two-Tone Color Seat Cover for Club Car DS Precedent and Yamaha Cart Machine Washable - L size
stars, based on
20
reviews
10L0L full set of seat covers features a stylish two-tone design, modelling fluent graceful, making it easy to add a splash of color to your golf cart and make it looks luxury. And the full wrapping edge design can protect your seat better.
Renew the Look & Protect the Seat:Using our seat covers can cover a few cuts in the original seat, make your golf cart look like new again, this is the best investment for your golf cart. And it can effectively prevent against dirt, wearing, scratches, indentations, the best choice for you.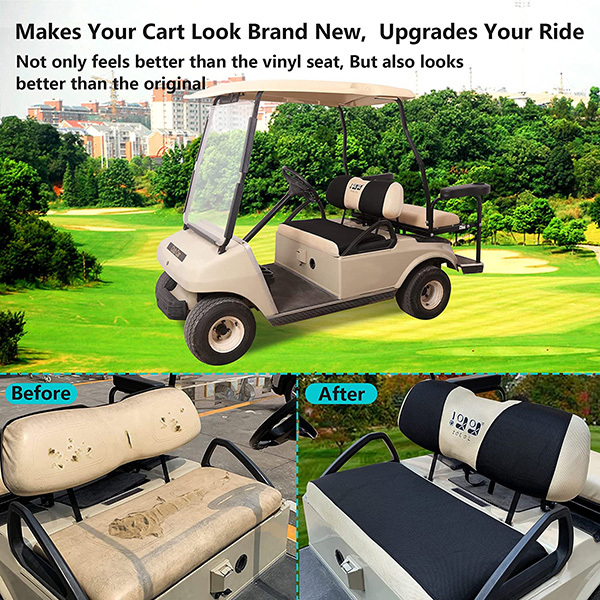 Durable Stretchy Fabric:Our golf cart seat covers are made from durable & comfortable breathable mesh cloth & polyester for maximum comfort during your daily drive, it is universal for all seasons - Easy to clean, machine washable, air dry.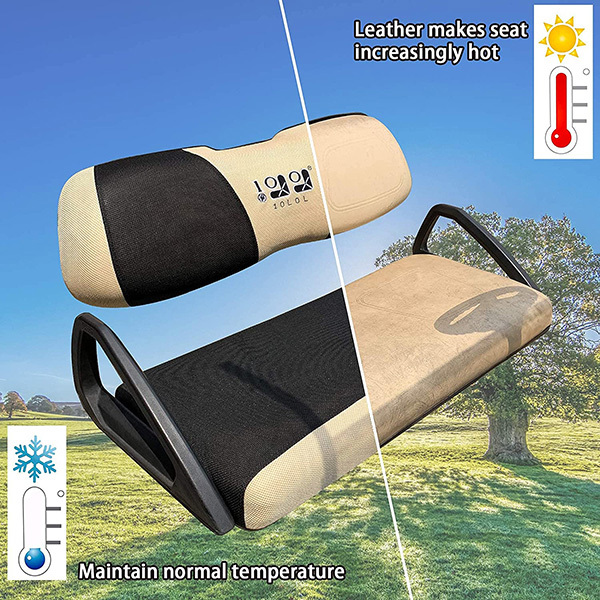 Fits Vehicles:Universal size is suitable for most Standard Club Car DS Precedent & Yamaha golf carts. If your seat has been thickened, widened and upgraded, please measure your cart seat size to ensure the covers fit.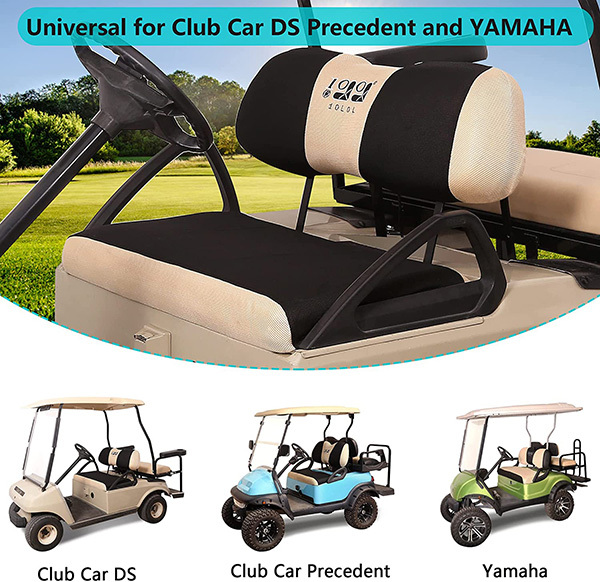 Specification
 - Color:Black + Beige
- Material:Polyester, Plush
- Auto Part Position:Rear, Front
- Backrest Size(LxWxH):36.6" x 11.81" x 5.9"
- Bench Seat Size(LxWxH):38.19" x 19.29" x 3.94"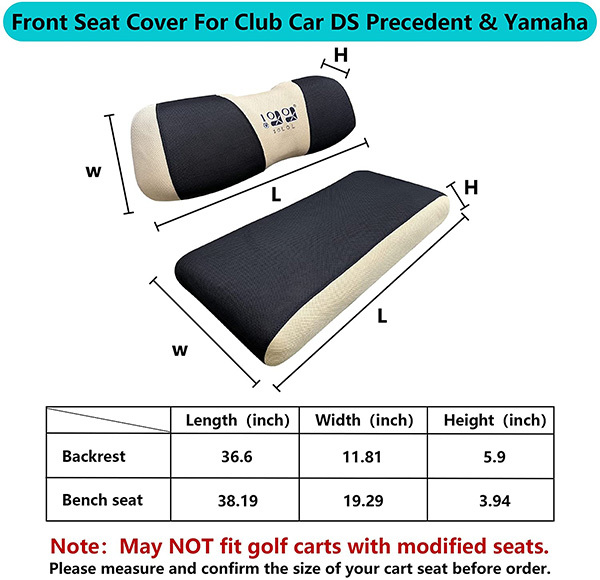 By
Andrew
Monday, 28 March 2022
These fit my EZGO RXV golfcart front seats perfectly.
By
coffeegirl
Friday, 26 November 2021
This item is real easy to put on and fits like a glove. I will be taking it off once a month to clean the seats.
By
Janet
Wednesday, 17 November 2021
Nice quality, easy to put one. Didn't exactly fit our model like a glove, but still looks great.
By
Charles H. Greene Jr.
Monday, 26 July 2021
The seat cover was very easy to install on my 2007 Yamaha golf cart. The cover is very attractive and it was at a great price. I would highly recommend this cover to anyone.
By
gingin
Tuesday, 29 June 2021
love the seats make the inside look like new. I would recommend these seat covers
By
C
Sunday, 28 February 2021
Great choice if you don't want to spend 100s of dollars on new seats!Fit nicely, gives the cart a whole new look. Family thought I changed the seats. After first install you will need to adjust them but they look great!
By
PameyKay
Friday, 25 December 2020
Easy to install. Look even better than pictures. My husband is disabled and this helped stop him from sliding on the leather seats.
By
Patricia M
Tuesday, 18 August 2020
The quality of this golf cart cover is exellent and a great price as well, The bottom seat cover fits perfectly the top however is a little big for our cart, though we made it work and it looks nice. I suppose it depends on the type of cart you have.
By
Kindle Customer
Sunday, 16 August 2020
By
Bill Westphal
Thursday, 02 July 2020
Nice cost alternative to replacing the whole seat. This also helps from sitting on a hot seat in sun light. If this had one more strap on the base from the left to the right it would be bullet proof in my opinion. Getting the side handles loose is not happening on a older machine and that would solve it. Also dries very fast if caught in the rain.
By
Wendy
Saturday, 20 June 2020
Good value. They look nice. This is not the top of the line seat cover, but the quality exceeds my expectations based on the price. The bottoms fit nearly perfectly. But the uppers have a little extra fabric for a Club Car Precedent. (The Club Car Precedent seat isn't flat across the top, there's a little dip. These seats are universal and aren't tailored for that dip). The covers were relatively easy to install. They require you to run two straps under the seat to pull the fabric taunt And secure the seat. On the bottom, that's a very easy task. On the uppers you need to remove the back rests from the cart. There are two bolts near the basket behind the seats. It turned out not be an easy task, but Just a heads up. Once on they look great.
By
rberube
Sunday, 16 February 2020
By
Sandra
Tuesday, 11 February 2020
These seat cover fit like a glove and make our cart look new and vibrant...
By
Brock
Friday, 17 January 2020
By
Richard M. Foss
Wednesday, 15 January 2020
This seat cover is a very attractive upgrade for worn original Club Car upholstery. It is a reasonably good fit for my stained and worn padded cloth front seat and back. Easily washable when soiled. I am pleased with this purchase. Very good value for the price.
By
35 X 2
Monday, 06 January 2020
Easy to install. Looks great.
By
MICJACK
Saturday, 04 January 2020
As advertised; wish it was " fittable " a little snugger
By
paul knapp
Wednesday, 04 December 2019
Great cover just what I needed. Love the way it fits easy to put on.
By
AM
Friday, 30 August 2019
Overall this product worked great. It was used primarily to help the seats from getting too hot in the sun. There was minimal slipping off the seats as well.
By
Snyderstein
Friday, 21 June 2019
We purchased a 16 year old golf cart and while the leather seats were cleaned, they still looked very worn as any 16 year old seat would. So, we purchased one of these golf cart seat covers and it truly made the golf cart seem newer/cleaner and it fit our Club Car DS perfectly. We have rear passenger seats in our golf cart and because we liked how the seat covers looked in the front, we immediately ordered another seat cover for the back and we installed it just as easily as the one before. So pleased with our purchase and highly recommend for anyone looking to improve the look of their golf cart seating.