10L0L Golf Cart Parts & Accessories

This ezgo golf cart enclosure is custom made fit 2 passenger EZGO TXT
With clear PVC windows, our ez go golf cart enclosures 2 passenger protects your golf cart from the harshest elements, allowing you to drive in the wind and rain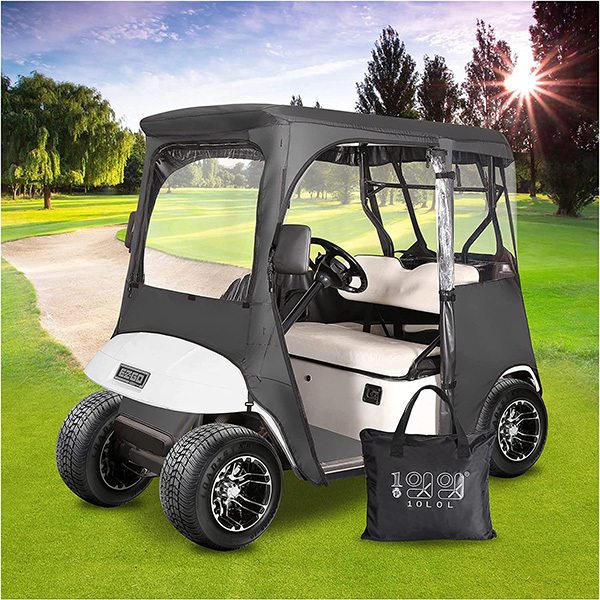 Ezgo golf cart enclosure with Side mirror opening and visible design of rear lights are unique design patent by 10L0L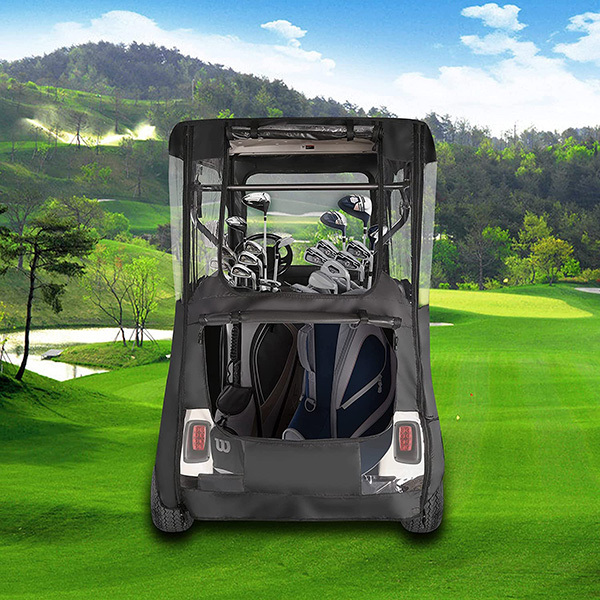 Made of heavy-duty water repellent polyester, Ezgo txt golf cart enclosures can be used as a long-term outdoor storage golf cart cover, against scratches and nicks, rain, snow, wind, dirt, bird, tree debris, etc.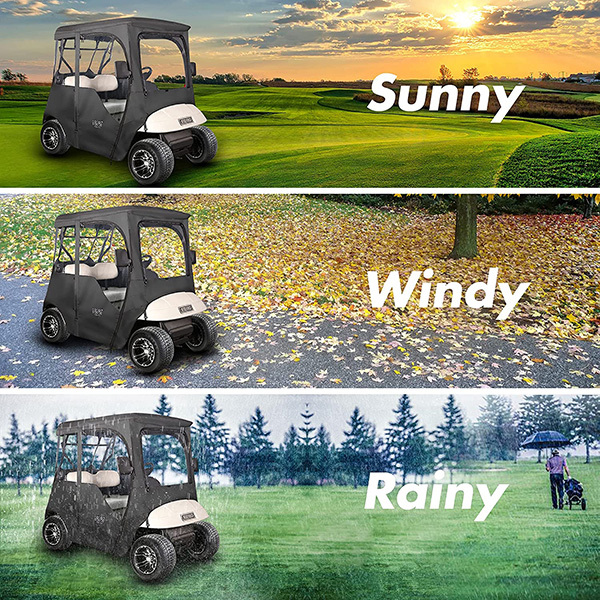 4-Side YKK zip-open panels, the windshield can be completely removed and stored in the front zippered pocket, the 2 side doors, rear window, and rear trunk area can be zippered both inside and outside, roll up and easily fixed by magic tape, our ezgo txt enclosure keep the golf cart ventilated and breathable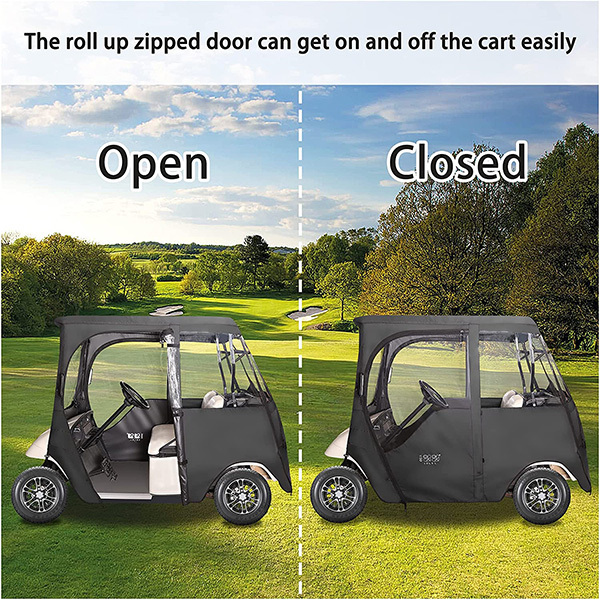 Installs in minutes without tools, just fit the enclosure cover over cart roof, and roll down the sides, 6 hooks at the bottom to help you fix your cart tightly, ensure extra-secure placement, even on windy days
Coming with a free carrying bag for portable storage, 1-year free replacement, and money back, please contact us in time if there is any product defect with our Wzgo txt golf cart enclosures.
Product size: 59''L*39.5"W*57"H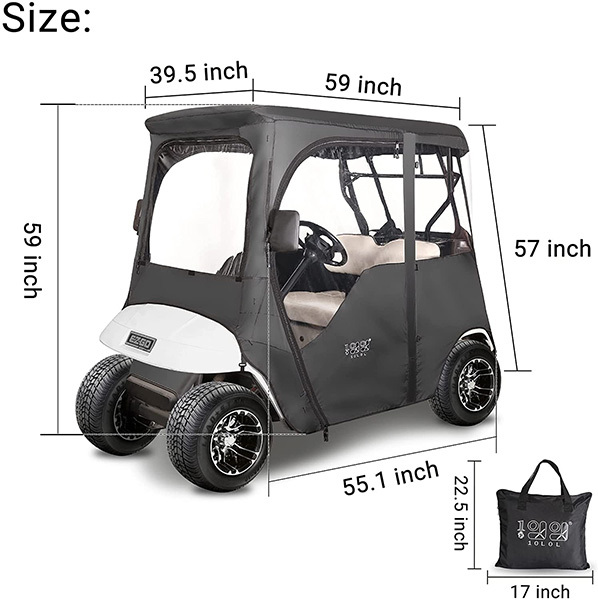 By
Amazon Customer
Monday, 28 March 2022
My Enclosure is for the two seater EZ Go 2014+. It is perfect. I love it. For the price it cannot be beat. The only thing that I wish is that it also going in the beige color as the club car because it would have been a better color match for my cart as I have a remanufactured 2016 with blue seats but the black matches the trim. I get a lot of complements on this enclosure and I don't understand why people complain about it.... $154.00 including shipping and it fits sop well. If I have to get a new one in 2-4 years, I think it paid for itself.... especially if it makes for a more comfortable ride in the cooler to colder months as I live in Florida and we use our carts for more than golf.
By
Todd
Tuesday, 22 March 2022
The hooks sometimes do not stay attached to the cart.
By
Karyn Sutherland
Saturday, 05 March 2022
Lots of access and zippered sections. Very difficult to fold and put back in the carry pouch. Need a bit more size in the back to accommodate sand and cooler bins common on most all modern carts.
By
Jan H.
Sunday, 27 February 2022
By
Val Heidebur
Wednesday, 23 February 2022
I'm handicap and use my golf cart every day to walk my doggy and put down trash bins. This cover and a small heater allows me to be out when temperature is near 25°.
By
Michael Wasserman
Thursday, 17 February 2022
I have installed this on a 1990 Freedom Ezgo . It doesn't fit perfectly however, the rear is a little large but still works very well. The cart stays dry and does keep the chill out of the inside. Overall I think it was a good choice and I'm happy with the outcome….
By
faron f.
Monday, 07 February 2022
By
Michael Ferguson
Wednesday, 02 February 2022
Fits my 2005 TXT fine, could use a little more space to cover clubs.
By
robin benoit
Saturday, 29 January 2022
This top is very nice fits my ezgo perfectly
By
deb in fla
Tuesday, 11 January 2022
this was fine. no instructions were included but I figured it out. fit well on my EZGO golf cart. will help keep it dry and clean.
By
Lauraline Ann
Tuesday, 28 December 2021
We gave this to our son in law for Christmas and he was like a little boy who just got his Red Rider Rifle he had always wanted. He went out immediately and put it on his golf cart. It fit perfectly! Our daughter got him a golf cart heater for Christmas so he's set all winter long to take the dogs out for a run all year long
By
Kathleen Darrough
Thursday, 16 December 2021
May require 2 people to put it on because of the size and awkwardness of positioning it. It is perfect for our Easy Go TXT.
By
anonymous
Monday, 13 December 2021
I live in Missouri and our weather can get windy and cold. This enclosure keeps the wind out. It is wonderful and reasonably priced. Hands down I would buy it again.
By
edward r.
Friday, 10 December 2021
easy to install even without the directions!
By
Karon Orr
Friday, 03 December 2021
Love it! Serves the purpose needed during our Winter months. Was easy to put onto golf cart. Is secure and looks great
By
KB
Tuesday, 30 November 2021
The quality and fit exceeded my expectations. I have had the enclosure on for the last few weeks and have received several compliments. My son ordered one for his golf cart after seeing mine, even though he already had an older generic cover on his cart. I love the easy access to my golf bag. This cover not only fits perfectly but looks good. Based on the quality of the material and zippers I expect to get several years of service from this product. I have and will recommend this product to friends.
By
Brian Greenwell
Friday, 26 November 2021
Live the tight fit, club cover a little to tight but otherwise a great cover
By
John O'Donovan
Sunday, 31 October 2021
Sturdy, easy to install excellent value for money.
By
kelwms1967
Wednesday, 27 October 2021
My cart is all ready for cooler weather now! This cover is of good quality for the price. It was pretty easy to install for 2 people. I think I would have struggled alone. Pros: heavy material, zippers are good, lots of straps to hold area open, sturdy hooks for attaching to frame Cons: barely fits over 2 golf bags, sides cannot be completely opened for warmer days It's a good cover and definitely worth the money.
By
M. Jones
Sunday, 19 September 2021