10L0L Golf Cart Parts & Accessories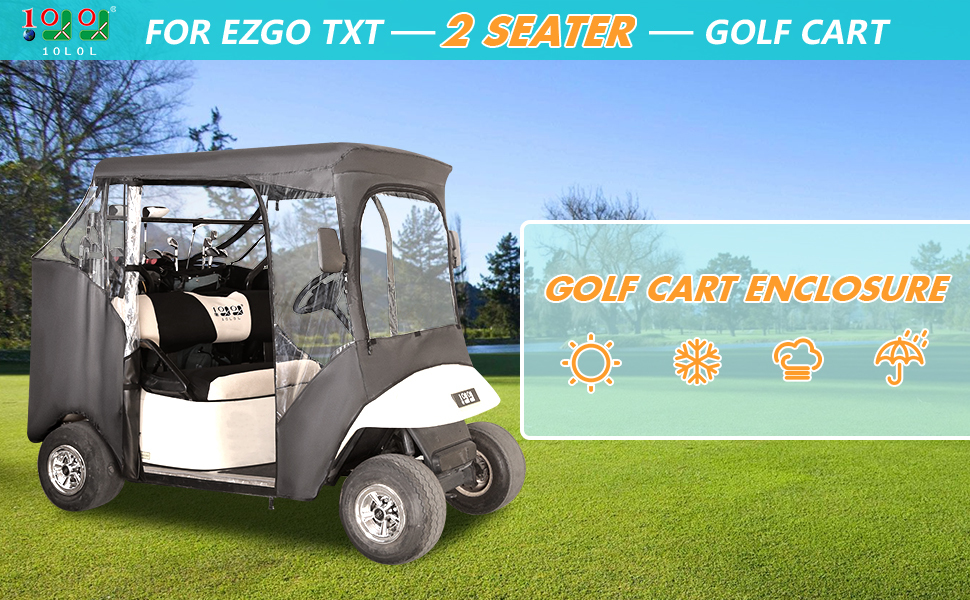 FIT FOR 2 PASSENGER EZGO TXT WITH FULL ROOF 58"
This EZGO golf cart enclosure Fits most 2 seaters with shorter 58" roof EZGO TXT golf carts,
SIZE: 58"* 36" * 58"(L*W*H). (DO NOT fit Yamaha, Club Car and RXV)
Please kindly check the size and model before your purchase.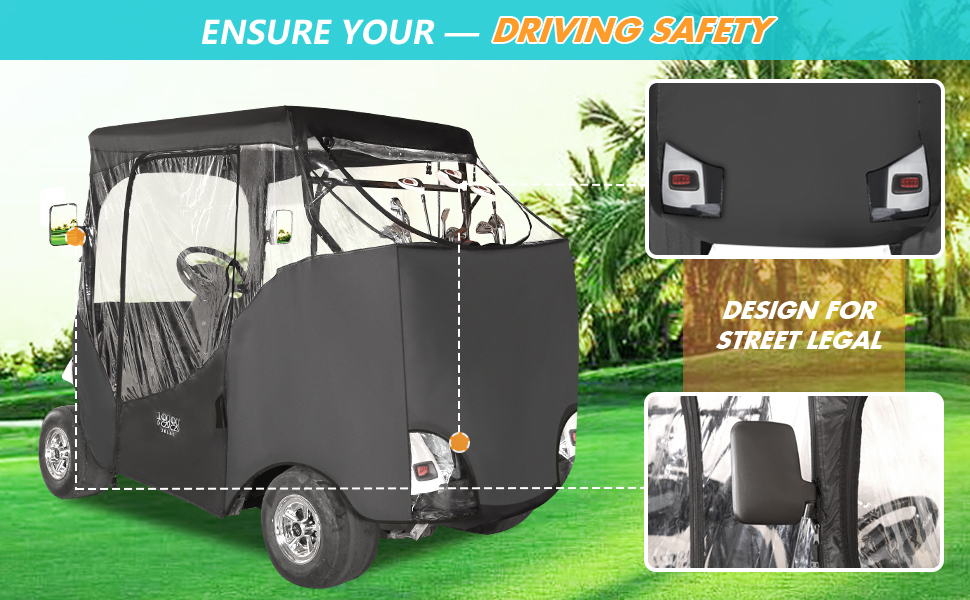 Make Your Golf Cart Meet Street Legal
1. WITH SECURITY SIDE MIRROR OPENINGS:
Our golf cart enclosures with large side mirror openings, it's a plus for safety and ensure your driving safety.
2. TRANSPARENT TAILLIGHT ZONES:
The humanized design in which we used the transparent taillight window, and backlights can be seen when using this ezgo golf cart enclosure!
NOTE: Side mirror opening and visible design of rear lights are unique design patent by 10L0L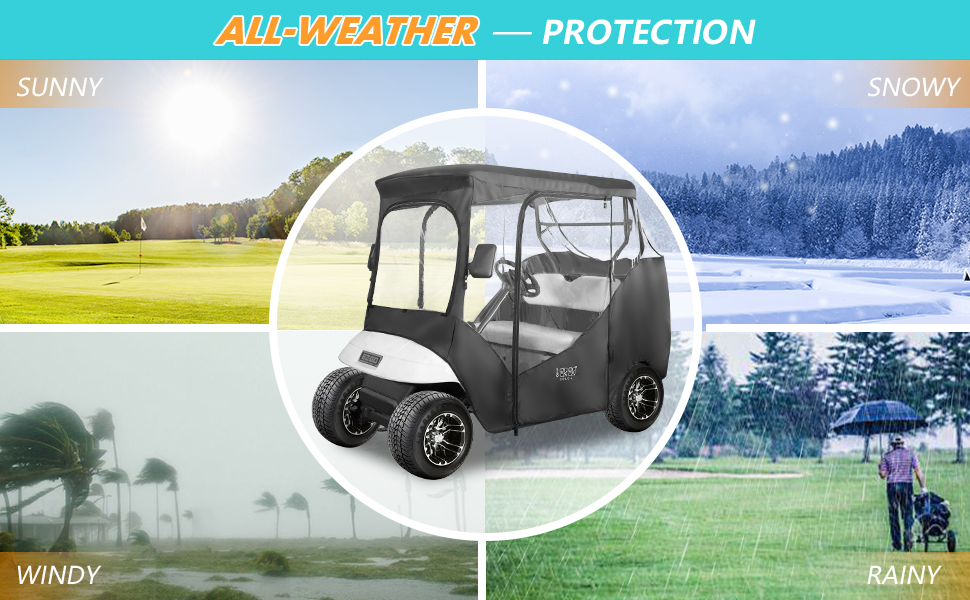 FULL PROTECTION & WATERPROOF MATERIAL:
It might be rather bothering for golf lovers when they come across with unfavorable weather such as rain, fierce wind and too much sunshine. Our ez go golf cart enclosures 2 passenger enclosure made with water repellent polyester and PVC, extra durable, more waterproof, tear resistant and anti-UV, effectively protects your golf cart from the rain, wind and other weather conditions.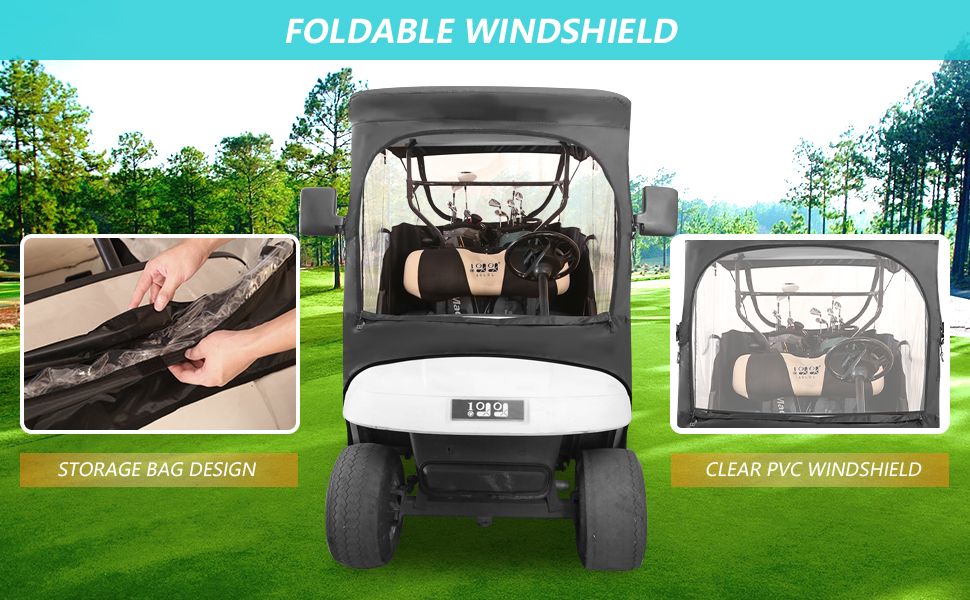 ROLL-UP WINDSHIELD & SUPER-CLEAR PVC WINDOWS
The windshield of this EZGO TXT Enclosure has a zipper so you can unzip and store it in the front pocket
Clear transparent windows provide maximum visibility.
By
spring day
Monday, 21 February 2022
Purchased this for out golf cart. We use the fold down seats in the back for storage. I thought this would work for our cart. It does not cover the back for the 4 seat golf cart. My error. This product will work great for a 2 seat cart, as described. MY error in the purchase.
By
Elizabeth S
Thursday, 17 February 2022
My daughter plays in tournaments in the winter and it can get pretty crisp sitting in a cart in the shade. Brrrr. We also got Mr. Heater and it was like a sauna. Everyone piled in when the holes backed up so they could thaw out. Haven't needed it for rain yet but I'm sure that'll be nice too.
By
Chris Tascione
Wednesday, 16 February 2022
By
Bottom 10,000 reviewer
Monday, 14 February 2022
This cover is perfectly fitted to the EZGO golf cart. It's dimensions are exact to the cart from head to toe. It literally looks custom made for it. • material is high quality and thick poly weave. It's sturdy and double stitched. •zipper is large and sturdy. Pulls effortlessly. •the clear panels are thicker and doesn't wrinkle. You can easily see through the panels. •The front clear panel can be zipped down and won't obstruct driving vision. This is a major game changer! Can't tell you how many times we had to poke our heads out to see where we're going with other covers. •metal tie downs to cart are sturdy and didn't come loose. This cart cover is as custom as you can get. Don't mess with the universal covers, order one specifically for your cart, spending the slightly higher cost is well worth it.
By
Shelby C Cline
Friday, 04 February 2022
Good fit and good weather protection love lots of zippers windshield zippers up or down both doors are zippered bag area zippered even zippers to zip around outside mirrors……comes with bag to store when not in use…..first install took about 10 minutes I use it during cold or rainy days warm days I remove it put it back in its bag(about the size of a purse) and store it till the next time….great price well made of nylon sturdy stitching through out
By
Kevin S.
Tuesday, 25 January 2022
Surprisingly excellent quality, especially considering how low the price was. Good fitment, thick materials, solid mounting system, nice clear windows, and sturdy zippers. A very VERY good value for right around 120 bucks! A+++++++++++++++++++++++++++++++++++++++++
By
VLV
Thursday, 13 January 2022
I bought a different enclosure and found that I did not like having it cover my windshield as it made it harder to see. I love that this one lets me unzip the front and roll it down and tuck it away so that it doesn't impede my visibility at all. It is very simple to put on (easiest with 2 people). It is much sturdier/thicker than the first one I bought and that makes for less wrinkles in the side and back windows. I would give it 5 stars but the hooks on the bottom are a little more difficult to hook underneath the golf cart that the first one I bought. No biggie though. I have already recommended it to several friends.
By
julian orlinski
Monday, 13 December 2021
I purchased the side view mirrors and found them to be a real value and safety feature. The design of the enclosure allows for easy installation of said mirrors.
By
Storms94
Monday, 06 December 2021
By
Cliffy's mom
Thursday, 07 October 2021
Once I figured out which way was up it was easy for two people to install it. Fits my EZGO Freedom snugly. A little hard to see through the clear plastic cover on the windshield, especially with sun glare. Quite warm when it is all zipped up.
By
Nick
Wednesday, 21 July 2021
By
Yoly Frick
Friday, 19 February 2021
Great buy! Works great even in sub temps.
By
Amazon Customer
Monday, 25 January 2021
I returned it it didn't fit my golf cart .it was made out of good material and I believe I would of like it if it had of fit.
By
David D. Pearson
Monday, 21 December 2020
The enclosure came very quickly, within 10 minutes or arriving I had it installed. It was good fit and one person can install it with ease. Time will tell to see if it can hold up under winter conditions.
By
Dan E. Long
Sunday, 13 December 2020
Would like to have the straps have a tightener on them to keep the cover tightly secured. Along the back opening needs to be larger so you can get your bag in easier as well as have access to the pockets on your bag.
By
robert butrum
Monday, 23 November 2020
Good product, E Z -GO golf cart.
By
E. Ciampi
Friday, 06 November 2020
Love my British taxi! Love this product! Love the look! First I want to tell you that I use my golf cart as a garden cart. I am retired & this cart allows me access to my whole yard with shovels and heavy bags of dirt etc Now that the weather is turning cold I use the golf cart cover for wind and rain protection! It kind of makes it look like a British taxi! So cute, easy to put on. Throw it over the top and turn until the front is in front. I parked the golf cart in the sun and very quickly most of the wrinkles fell out. There was no smell either. Great price.
By
Gigi
Monday, 02 November 2020
Great purchase...great seller.