10L0L Golf Cart Parts & Accessories
10L0L rear seat cover fits most aftermarket brands golf cart rear flip back seat,these seat covers are flexible, Fit for Club Car DS & Precedent and Ezgo TXT & RXV Golf Cart!
Get Cozy and Keep Warm in Colder Winter:warm Rear seat cover for cold winter weather which ensuring your warmth, comfort and dry, even in the great outdoors. They are both soft and plush to the touch, the carefully crafted logo will not fall. With breathable mesh,it's able to avoid getting too hot leather cover especially in summer/ under sunshine. Keep normal temperature while other cover such as leather's increasingly getting hot under sunshine.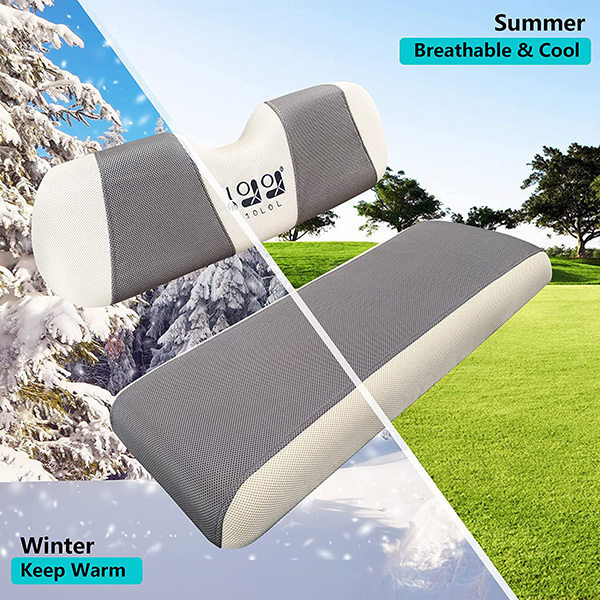 Extends the Life of Your Seats:Our golf cart seat cover also extends the life of older or damaged seats by preserving the condition and integrity of your carts upholstery, these are well made and will last for a long time. Besides, keep your seat clean, free of dirt, dust, scratches and spills.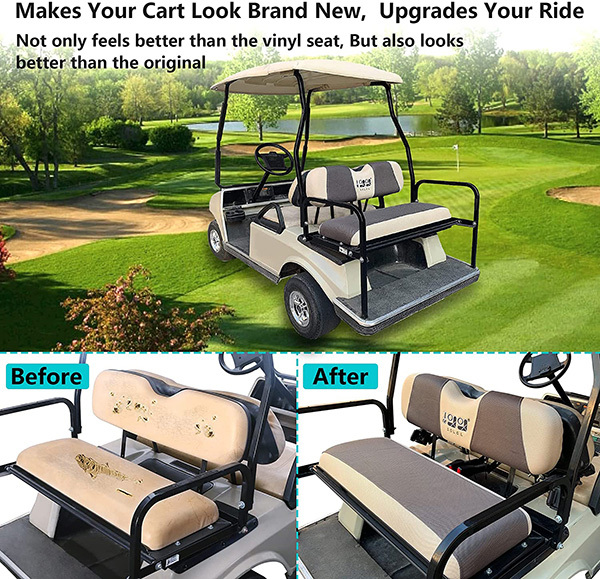 Specification
 - Color:Gray Beige
- Material:Leather, Air mesh
- Auto Part Position:Rear
- Backrest Size(LxWxH):35" x 9.5" x 3"
- Bench Seat Size(LxWxH):37.5" x 13.5" x 3.7"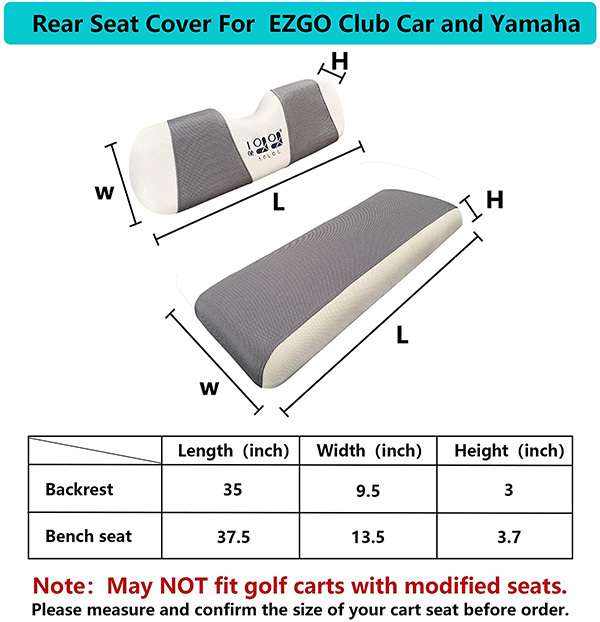 By
SL Good
Wednesday, 23 March 2022
Easy way to spruce up the golf cart
By
alex r oliver
Monday, 12 July 2021
By
dan hogan
Tuesday, 06 July 2021
My seat does not have the dip in the middle. It is level all the way across. No matter. It still fits like a glove.
By
Bob
Monday, 19 April 2021
The seat covers are very good quality, but needs to be more snug around the edges.
By
Christopher
Tuesday, 04 August 2020
Great price and looks good. Fit good on my 2007 Yamaha cart.
By
JackBauer
Tuesday, 31 December 2019
Fits Well. A little saggy in the middle but not bad considering it's a fairly universal piece. Matches the other 10LOL front seat cover color perfectly! Only downside is back lower bench seat on my cart is a flip over multipurpose flat bed, so the seat cover can not slide underneath as it is flush against the panel. Fixed this by adding a few spacer washers between the seat and bench thereby allowing me to snug the cover as it is supposed to be used.
By
Jean
Friday, 20 December 2019
We are very happy with this product! They look fantastic