10L0L Golf Cart Parts & Accessories
10L0L rear seat cover fits most aftermarket brands golf cart rear flip back seat,these seat covers are flexible, Fit for Club Car DS & Precedent and Ezgo TXT & RXV Golf Cart!
Get Cozy and Keep Warm in Colder Winter:warm Rear seat cover for cold winter weather which ensuring your warmth, comfort and dry, even in the great outdoors. They are both soft and plush to the touch, the carefully crafted logo will not fall. With breathable mesh,it's able to avoid getting too hot leather cover especially in summer/ under sunshine. Keep normal temperature while other cover such as leather's increasingly getting hot under sunshine.
Extends the Life of Your Seats:Our golf cart seat cover also extends the life of older or damaged seats by preserving the condition and integrity of your carts upholstery, these are well made and will last for a long time. Besides, keep your seat clean, free of dirt, dust, scratches and spills.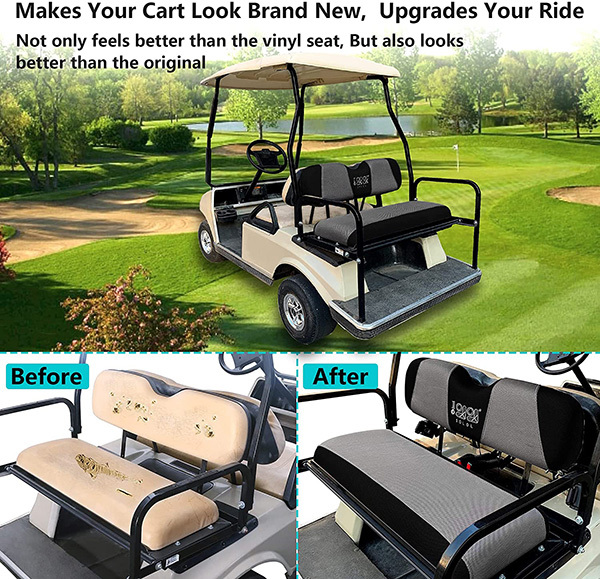 Specification
 - Color:Gray Black
- Material:Leather, Air mesh
- Auto Part Position:Rear
- Backrest Size(LxWxH):35" x 9.5" x 3"
- Bench Seat Size(LxWxH):37.5" x 13.5" x 3.7"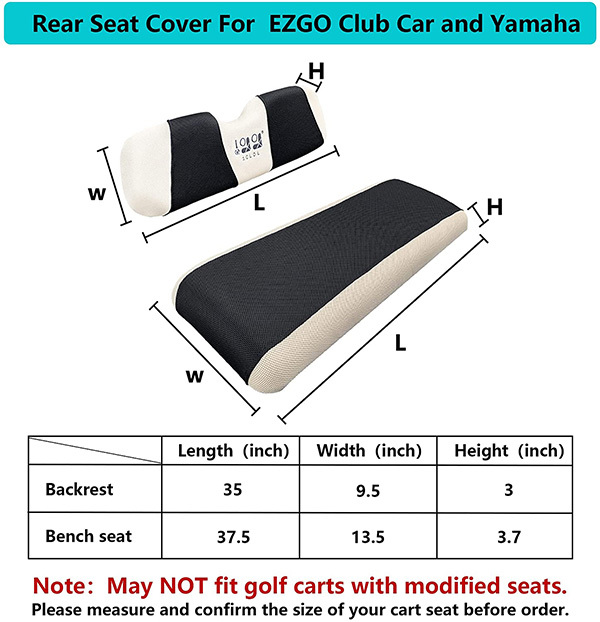 By
Dennis
Monday, 07 February 2022
Lots good remarks from people in my park
By
Jessica
Thursday, 09 December 2021
By
Andy L
Tuesday, 07 December 2021
5.0 out of 5 stars Lo que se necesita se encuentra
By
Kyle Marvin
Sunday, 03 October 2021
If you have an RXT, snag these! Especially in the south as it's so much nicer sitting on this instead of hot leather.
By
Amazon Customer
Saturday, 31 July 2021
We purchased the front seat cover and lived it so much, we purchased the back seat. We get in wet from the lake or pool and the material is great. It stays cool and it's washable.
By
Jose
Monday, 07 June 2021
By
Fred11934
Friday, 23 April 2021
The seat covers fit beautifully; they are snug and do not slide at all. The covers brightened up my golf cart so that it looks almost like new.