10L0L Golf Cart Parts & Accessories
Golf Cart Seat Cover for Club Car DS Precedent and Yamaha, Full Set for Front Seats, Easy Install - L size
stars, based on
10
reviews
10L0L full set of seat covers features a stylish two-tone design, modelling fluent graceful, making it easy to add a splash of color to your golf cart and make it looks luxury. And the full wrapping edge design can protect your seat better.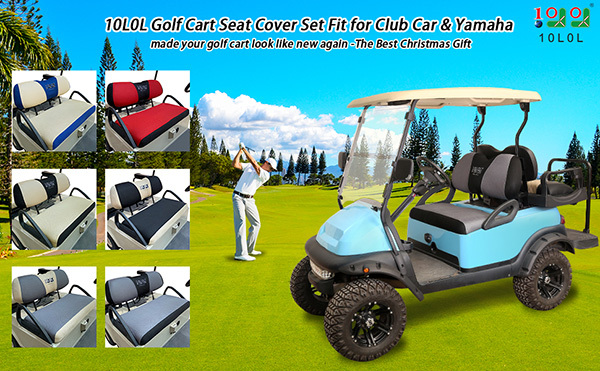 Renew the Look & Protect the Seat:Using our seat covers can cover a few cuts in the original seat, make your golf cart look like new again, this is the best investment for your golf cart. And it can effectively prevent against dirt, wearing, scratches, indentations, the best choice for you.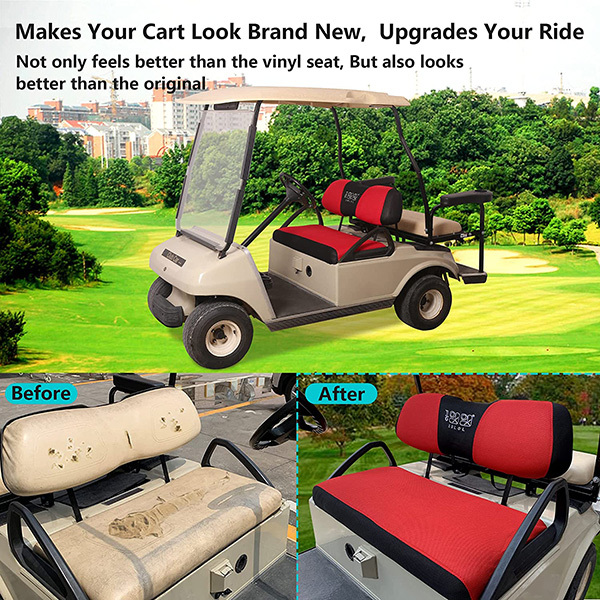 Durable Stretchy Fabric:Our golf cart seat covers are made from durable & comfortable breathable mesh cloth & polyester for maximum comfort during your daily drive, it is universal for all seasons - Easy to clean, machine washable, air dry.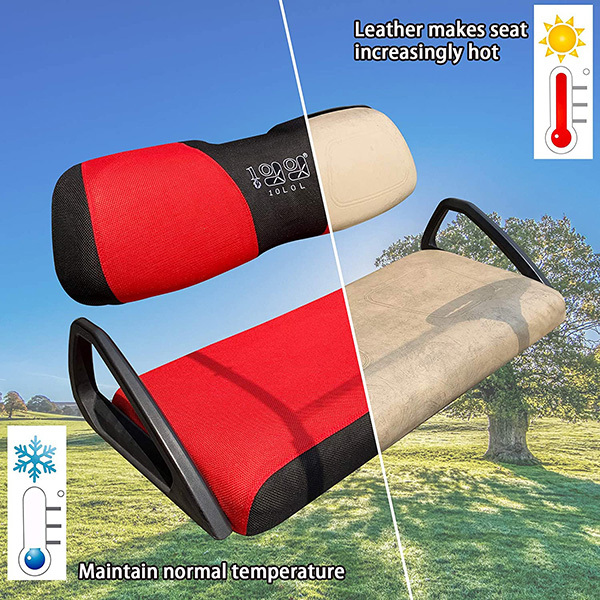 Fits Vehicles:Universal size is suitable for most Standard Club Car DS Precedent & Yamaha golf carts. If your seat has been thickened, widened and upgraded, please measure your cart seat size to ensure the covers fit.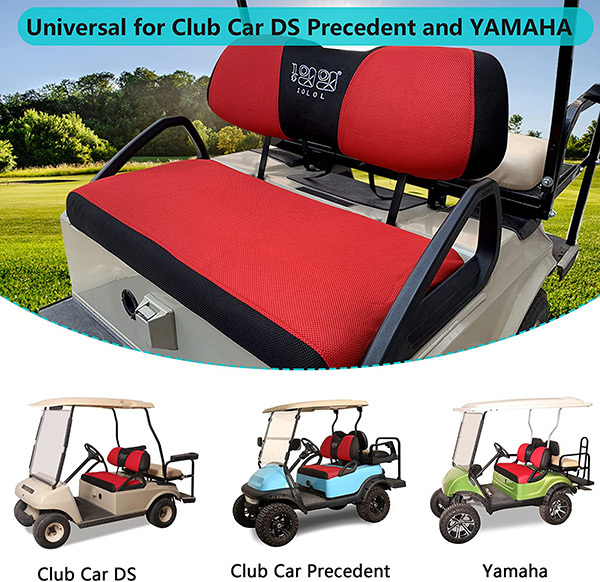 Specification
 - Color:Red + Black
- Material:Polyester, Plush
- Auto Part Position:Rear, Front
- Backrest Size(LxWxH):36.6" x 11.81" x 5.9"
- Bench Seat Size(LxWxH):38.19" x 19.29" x 3.94"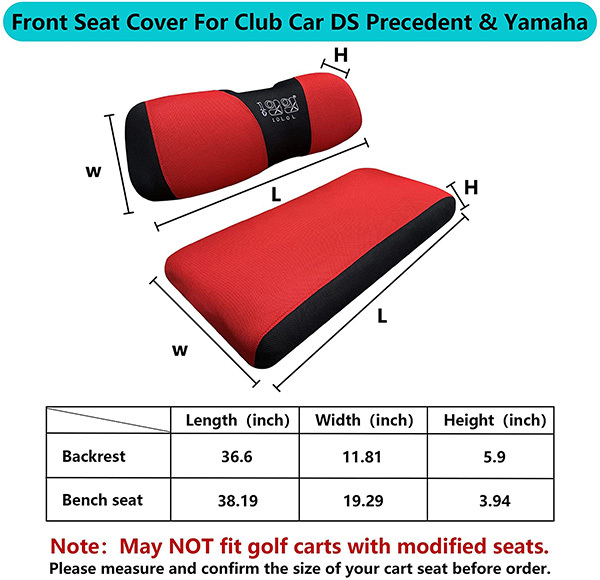 By
rosemarie francis
Thursday, 24 February 2022
Important to measure your seat. I use this on the rear seat of my 4 passenger Club Car. And it fits great. Would buy again....
By
FunnyMommy in San Diego
Tuesday, 04 January 2022
Fits Evolution Golf Cart 2022! Product and quality was exactly what I needed to protect the golf cart seat on my Evolution Forester! Easy installation, simply propped-up seat and threaded the straps through, cinched and done! Good color options available and happy with overall look! (Am not using the backrest cover which was part of the set but will store).
By
Thomas
Tuesday, 14 December 2021
The lower cover has the buckles a little to close to the back edge and may hit the rim. The upper cover requires on the Icon golf carts to remove the cushion from the frame to install.
By
tigger
Sunday, 22 November 2020
To me this is some of the best seat covers ever...soft and plushy...dont really get cold or hot...just dead in middle...I have these on front and back...I will always buy from 10L0L and recommend everyone I know to them... The only reason people honestly dont go to them is because they have their brand in the middle of the covers... I could care less.. I would put their brand anywhere on my golf cart...I have 90% of their stuff on my golf cart and its some of the best... and not at a high price either... I would recommend these seat covers and any of their stuff to anyone and to buy them as well.
By
melissa duvall
Friday, 03 January 2020
With the seats removed it was very easy to install. The front and back seats are different sizes but they fit great and look awesome! Plus if they get dirty you can wash them. I had the old school yellow bench seat and needed an upgrade and these are it! Super great value if your cart needs a facelift
By
Amazon Customer
Wednesday, 25 December 2019
These are wonderful and were very easy to install on both front and back seats of our golf cart. I no longer have to worry about the seat being hot. From a distance they look like the actual seat. We purchased the red with black as those are the colors of our golf cart and they just make our golf cart look real classy. I recommend these for the quality and price.
By
Alfie
Tuesday, 26 November 2019
We are getting up in years and so is our service dog. Since we live in a gated community, we recently purchased a 2019 Club Car "Onward" golf cart. It has leather seats and our dog's feet would keep sliding around while we were driving around the neighborhood. We purchased these seat covers to try and give her paws a more solid grip. Not only do they work great but they look professionally installed and are easy to install. I highly recommend these. Only one warning... make certain they will fit your specific cart before ordering.
By
Debbie D.
Wednesday, 13 November 2019
This made such a wonderful difference in my 2006 Club Car seats! They were in good shape, but were discolored from sitting under my Carport year round in Florida. Super easy to put on too, took 10 minutes for top and bottom. I just ordered another set for the back seat -I don't expect them to fit quite as well because the backseat is a little smaller, but I think I can make them work. Highly recommended!
By
Steve C
Monday, 29 July 2019
Can't complaint. and slipped on without much effort on Precedent. But for the back, at least on Precedent there is no way to wrap around the strap without removing the cushion first. So there's way to do it but will be inconvenient to remove and wash. Fortunately it stays on just fine without the strap. The bottom may slip if your seats are slippery as expected. I'm going to thoroughly clean the original seat to make sure there's no oil and maybe put a non slip material in between. Big people shouldn't worry. Durability remains the question. The bottom slips on and is wedged between seat and battery compartment. I'm wondering if the strap won't be ripped apart at the seam. The strap hook is made of weak plastic so that may also break from weather. Will try to update after 6 months. UPDATE - around 20month later with every other weekend use. Other than dirt it has accumulated it still looks good. Color hasn't faded and the strap is holding strong, even the plastic buckle. Makes the cart look so much better.