10L0L Golf Cart Parts & Accessories

Suitable for EZGO, Club Car, Yamaha 2-4 passengers golf cart (include 2-person golf carts with rear flip down seats)

Great golf cart covers club car 4 passenger. Yamaha golf cart covers, EZGO golf cart covers, Club Car golf cart covers.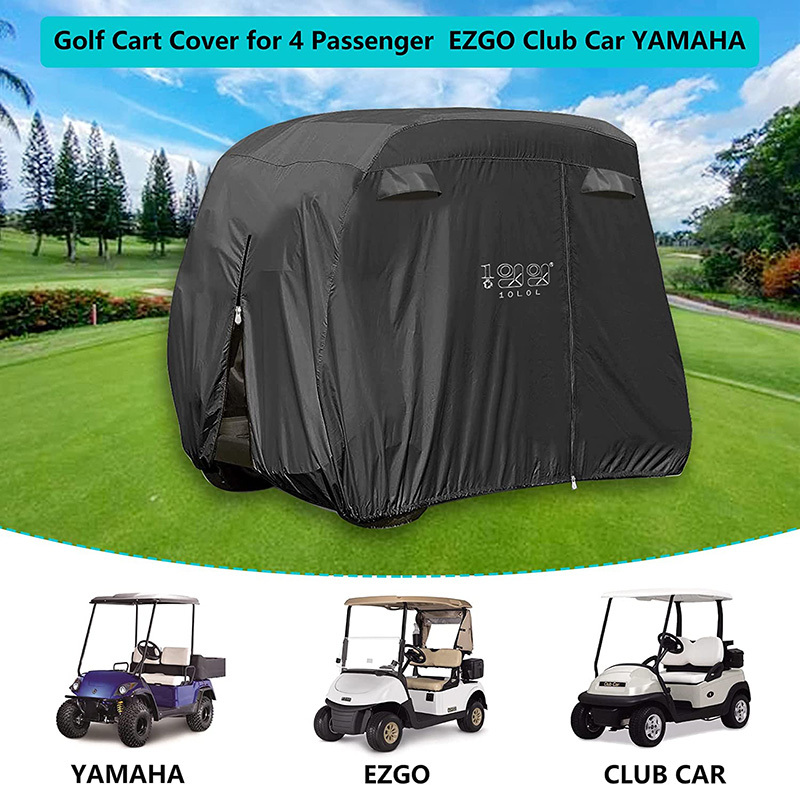 Made of high strength tear resistance polyester with UV coating, an effectively prevent the sunlight from aging the golf cart, and the non-abrasive PVC lining won't scratch your cart. All stitching area with exclusive water-proof adhesive tape, ensures many years of use, against scratches and nicks, rain, snow, ice, dusty, wind, dirt, bird, tree debris etc, highly recommended golf cart winter cover.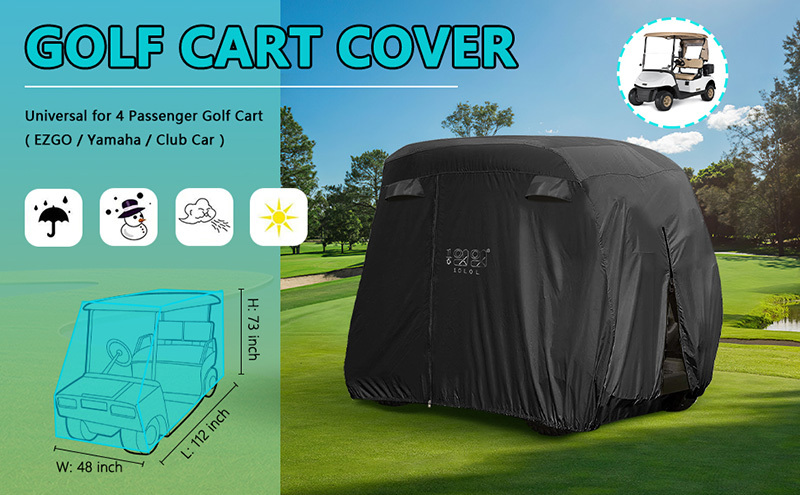 Professional Designs, The Best Choice for You: Our golf cart cover with 4 air vents and 3 zipper doors, upgrade Self-locking zipper, which is the unique one on the market.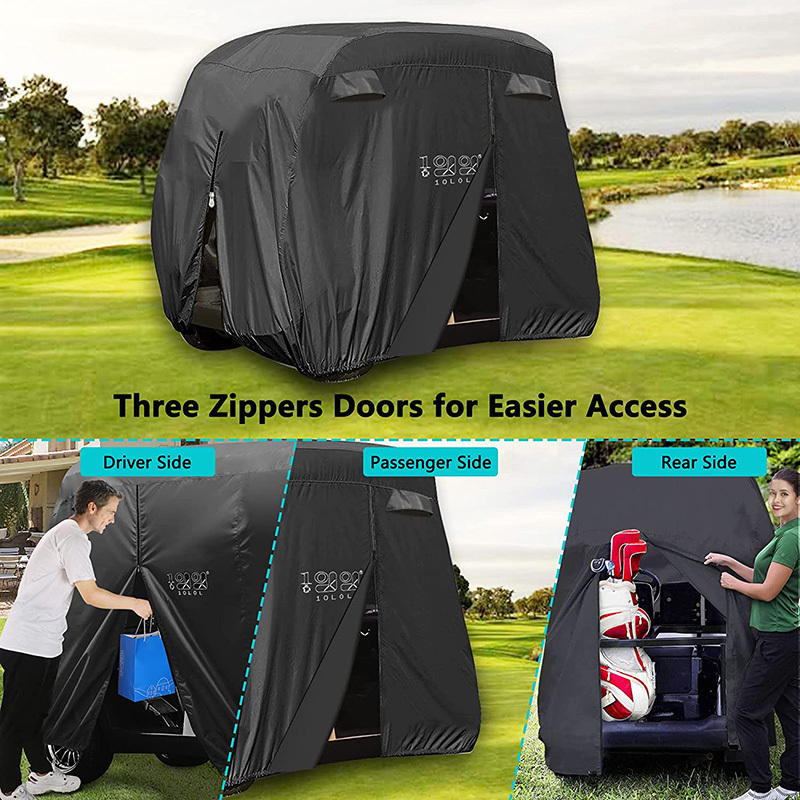 Premium Material: Our golf cart cover is made of an upgrade high-density Polyester 400D, maximum tensile strength of up to 20 MPA, durable enough. it is waterproof, heat insulation, air-permeable and fast drying. It can be folded, does not take up space.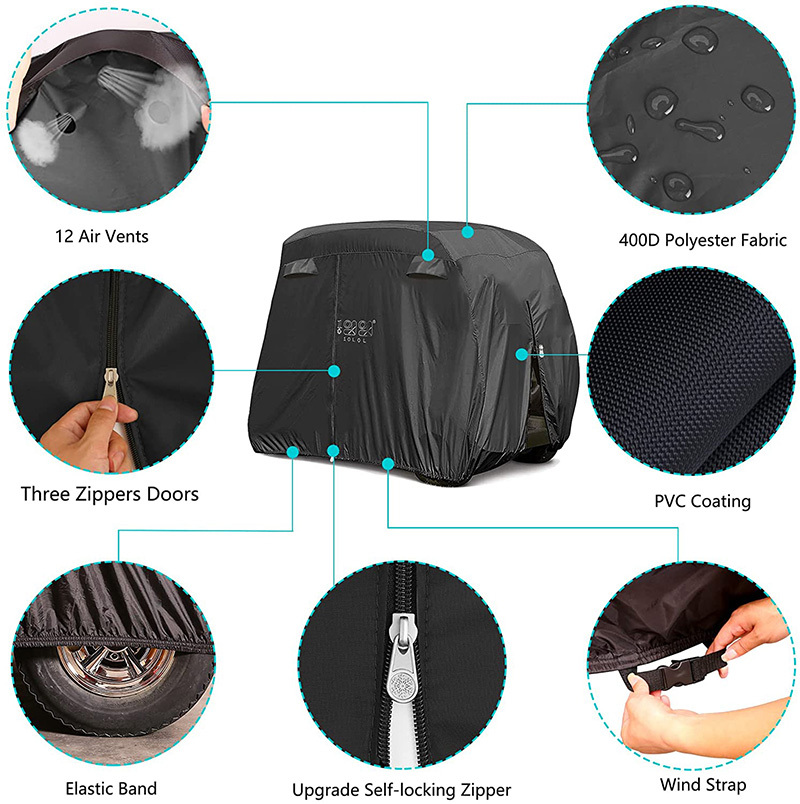 1 year free replacement and refund if there is any size problem or product defect
Specification
 - Color:Black,Silver,Green,Camo
- Material:high-density Polyester 400D
- Full Roof 80" Top
- Size:112"L x 48"W x 73"H

Packing list

- 1 x Golf Cart Cover
- 1 x Storage bag
By
Barbara Regula
Saturday, 02 April 2022
We recently purchased a golf cart that is larger than the standard golf cart plus it had oversized tires, making it difficult to find a cover that fir properly. After returning 1 cover that didn't fit, we ordered this one and it is perfect. It fits the cart well, is light weight so it is easy to remove and the 3 zippers make it extremely easy to put it on the card. It is well constructed and firs our needs perfectly
By
Djbiglou
Saturday, 02 April 2022
By
Matt
Thursday, 31 March 2022
Excellent wind resistance. This cover is the perfect size for my Yamaha golf cart. I like the zipper access on 3 sides, and the thickness of the material. We had a storm blow through that had 40 to 50 mph winds and it held up fine. I'm extremely happy with my purchase and would recommend this cover to my friends.
By
seesmee
Monday, 28 March 2022
By
Kristy Walker
Wednesday, 12 January 2022
It fits better than I thought it would and with the elastic around the bottom and the adjustable strap that goes underneath the cart it keeps the cover from getting blown off. Also I really like that there are zippers on both sides, so I can grab something from inside without having to take the cover completely off just to access the inside.
By
James Elliott
Sunday, 26 December 2021
By
Christoph A. Lebl
Thursday, 23 December 2021
By
Bob Webb
Monday, 08 November 2021
The cover was delivered on time. Easy to use and covered my golf card perfectly. Great waterproof material.
By
Scott B
Sunday, 07 November 2021
This cover seems like a nice cover however it just ripped apart in the wind. It has a 1 year warrantee and its 10 months old.. not sure how to make a warrantee claim. If I can figure that out and get it replaced I'll update my review. EDIT TO ADD: As said they just agreed to send me a new cover, got to love someone that backs their products these days! So I bumped my rating up, I like the cover it does a good job. Yes I would buy again!
By
PE Florida
Friday, 17 September 2021
By
thomas phlegar
Saturday, 04 September 2021
i liked it not bulky. seems to be made out of material like an umbrella but a lot heavier.
By
Marisara
Friday, 27 August 2021
By
Greg
Thursday, 26 August 2021
The cover was perfect for my Golf Cart.
By
L.W.
Sunday, 15 August 2021
Bought this cover for my dad's golf cart to keep it cleaner. It came with a nice storage bag and the green color was very vibrant. The quality of the material seemed great for the price point and the vents were a nice added feature. It comes with a strap that attaches under the cart that is a bit tough for my father to maneuver but with the help of hook pole he slid it under just fine but it still took a bit added effort. I saw some reviews that the material ripped so we used our own straps around the whole cart to secure the cover even more just in case the wind picked up when they aren't at the cottage. The cover did cover all wheels and parts of the EZ-Go cart and had a few zipper openings that made it convenient to access the cart front seat or rear seat/ compartment. The only thing I would change is maybe make the brand name a bit smaller and not be such a central location. I would recommend this golf cart cover. I'm very pleased with this gift.
By
brian shopsky
Saturday, 31 July 2021
It covers the golf cart great and no rain gets in.its easy to use
By
Cathy865
Thursday, 29 July 2021
It fits nice and is more substantial than our last cover.
By
RLambright
Thursday, 22 July 2021
Not 100% water proof but it does a pretty good job on keeping my cart protected. Maybe 98%. I really like the zippers and the strap is a great idea. We will see how the Texas summer affects it but so far I'm happy with it.